Action: Add Material to Task
Once a Task has been created materials can be added. Materials are tangible goods that can be assigned to a Task.


QicTip

Assigned
- is allocating materials to a job without committing their costs.
Think of this as you have picked all the materials you need for this job and they are sitting on a pallet in your laydown yard.

Booked
- is used when you 'physically' use the materials and want to commit the cost to your job.
You can book assigned materials ie 5 tins of paint are assigned and you booked (or used) 2 tins on Monday.


Assigned material DO NOT appear in your job costs.

Navigation
Click on

Job

from the main menu, then

Job Management

. Click on

Job Number

hyperlink within the management table that you wish to view. From here click on

View Tasks from the side Navigation menu, then click on the

Task Number

hyperlink you wish to add materials to. From the Actions side menu click on Edit Task , then scroll down the page to Assign Material button.
Assign Material to Task

Once the Add Materials button has been clicked you will see the following:


Assign Stock Item : This tab features all materials listed in your Nett Pricing Table

Assign Adhoc Item: Here you can enter a single free text item.

Upload Adhoc Items:
Download our template to add items multiple items that are assigned specifically for this job. Items added this way will
NOT
be included in your pricing tables.
Assign Stock Item

Complete the following steps to add Stock materials to your Task.

A
Show entries:
Change the view settings to Show 5, 10, 20, 50, 100 or All entries.
B
Search:
Click in the Search field and enter search criteria to find a particular material from within the Material Table.
C
Material Table:

Material code, description, UOM and quantity to be assigned.



D
Page Navigation: Click move through material pages.
E
Add to Task & Cancel buttons: Click as appropriate.
Contained in this table is:

| | |
| --- | --- |
| | |
| Field Name | |
| Code | Unique code for this material |
| Name | Material description |
| UOM | Unit of measure for this material |
| Quantity | Enter a quantity to of material to be assigned |

Adding a Stock Material and Booking it to the task will show this cost within the Purchases category in your Job Financials

Assign Adhoc Item



Complete the following steps to assign an adhoc item.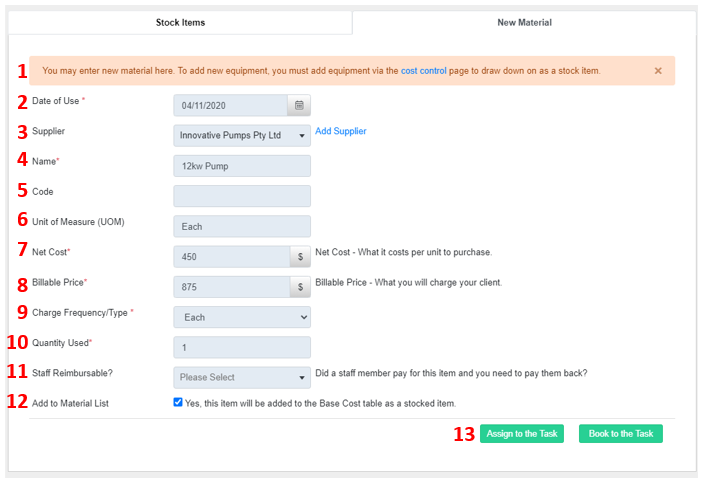 1
Warning Bar: Materials only can be added this way. Should you wish to add an Equipment item it must be added from within the Nett Cost pricing table.
2
Date of Use:
Mandatory *
Click in field to open calendar. Select the date this material was used. Default is today.
3
Supplier:
Select Supplier from dropdown or click on Add Supplier hyperlink to create new.
4
Name:
Mandatory *
Free text field to add name/description of material.
5
Code: Text field to assign company code ie part number.
6
Unit of Measure (UOM):
Mandatory *
Text field for unit of measure ie Length, m, each, roll etc.
7
Net Cost:
Mandatory *
Enter the purchase price for this item.
8
Billable Price:
Mandatory *
Enter the value this item is to be sold for. If this material is not being on sold enter $0.00.
9
Charge/Frequency Type:
Mandatory *
Select from dropdown how this item be charged.
10
Quantity Used:
Mandatory *
Enter quantity used on this Task.
11
Staff Reimbursement:
Is this cost to be reimbursed? If so, to whom. Select name from dropdown.
12
Add to Material List: Tick to have this material automatically loading into your Nett Costs table as Active. This item will also appear in your Base Pricing Table with the billable price, but will be marked as Inactive.
13
Assigned & Booked buttons: Click appropriate.

Adding a New Material will show this cost within the Purchases category in your Job Financials

Assigned & Booked Materials Table

Once you have added your materials your Materials table will populate.


All booked materials here will appear in your Actual Cost Table. Should you alter these Actual quantities in the
Edit Billable Cost
table, the quantities will automatically update here.

Controls

- Click to Edit the quantity used.

- Click to delete this material. Deletion will also remove the costs from your
Actual
and
Billable
Costs.

Make sure to click the Save button to apply all changes.


Related Articles

Action: Add Material to Pricing Tables

To capture the costs of materials used, consumed or resold on Jobs, the material must be listed within your Net Cost Table. Once entered the material will appear as Inactive in your Base and subsequent pricing tables. Materials can be added either ...

Action: Create a Task

Tasks are a great way to break down costs within a job, and can be created based on a task or job step, the shift that will preform that task, or trade. A Task can not be created on it's own. (Task templates however can - see Task Templates for ...

Action: Create a Task Template

Tasks are a great way to capture costs, with Task Templates being a mirror image of what you see when you create a new task. With the exception of assigning an Organisation to your Task template, you are free to add as little or as much data as you ...

Task Timer

Task Timer The Task Timer is a great way to keep track of time on a task With only a few clicks you can create a time entry Quick View Download or send this link to your staff for training: ...

Action: Add Classification

QicWorks uses Classifications to group together common Resource types. Classifications are not the individual Resource names, instead it is the group in which to Resource will be costed by. Classifications are used to calculate the net cost and ...