Action: Create Qualification Record
Creating a Qualification record allows user to upload their external training or medical history. Examples of training records is EWP ticket, trade qualifications, site inductions or vacination records.

Training records show in the compliance table alphabetically with Training Courses. It is recommended that if you have a lot of training courses and records that you use a prefix within their name ie IND - for inductions, QUAL - for qualifications.
Navigation

Click on Modules from the main menu, then click on Training. Click on the Qualifications & Records List panel. From the Actions Menu click on Create New Record.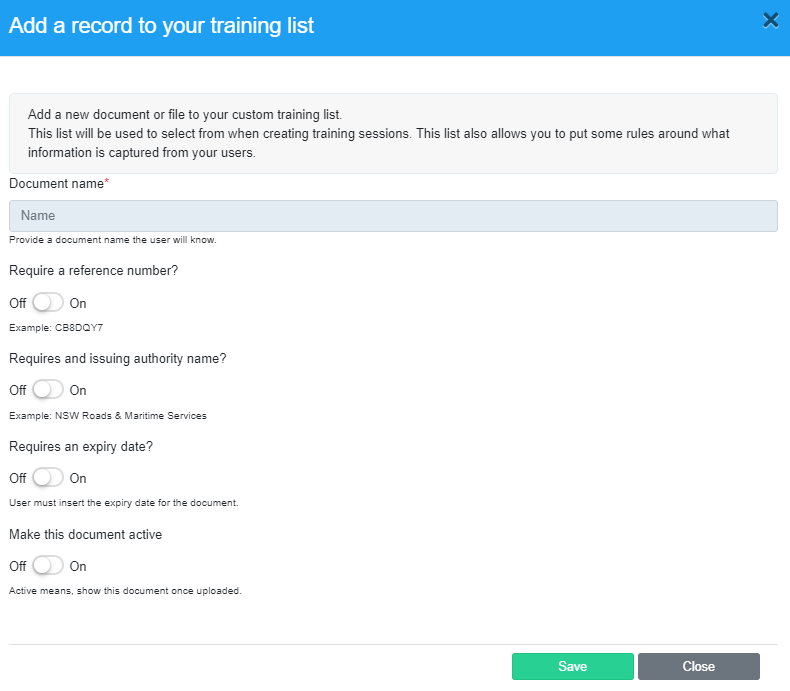 Enter the documents name. This is a mandatory field.

Requires a reference number? Toggle to on for User to enter the documents reference number.

Requires an issuing authority name? Toggle to on for Users to enter the authority or training provider name that issued the document.

Requires an expiry date? Toggle to on for Users to enter the documents expiration date.

Make this document active? Toggle to on to make this document available for Users to record data against.

Click Save.

This training document will now appear within your Required Documents table.


For more information about where to view all valid training records see:
Compliance Matrix
Related Articles

Action Register

Action Register Please return shortly as the content is being updated.

Action: Create a Training Session

Training sessions are requests to Staff members to undertake or renew their training requirements. A great time saver is that QicWorks allows multiple Users to be sent the same training session, as well as having the ability to add extra Users to ...

Create an Account

QicWorks is a J ob Management software solution that has been designed for businesses with complex rate structures across multiple workfronts. It can be used either as a standalone product that will collect field data to calculate job profitability ...

Action: Create Expenses

Expenses are a great way to capture utility bills, general expenses, credit card or petty cash purchases or staff reimbursements. You can even apply a mark up percentage to this purchase if your are on charging it to your customer. Once you select ...

Action: Create a Job

Job creation is easy with QicWorks. Jobs can be created manually or you can utilise your Job templates. Simply enter details as applicable to create a new job. We recommend that to get the most out of the QicWorks platform, jobs should be ...