Capture real time information direct from the field using the QicWorks companion app Shift Reports.

Track Job and Task progress and notes, mark off milestones and checklist reminders, capture images and GPS locations, material used and time spent all from the one report.
Permissions



To have access to the QicWorks companion app you must have Mobile App account level or above.
The Job and Task must have a status of Available to be seen within the App.

Shift reports can only be completed on the app by Supervisors or Job Owners.

Supervisorsand Job Owners must also be assigned as a resource on the Task for them to collect their times against that Task.

Create Shift Report



1. Click on Work from the main menu.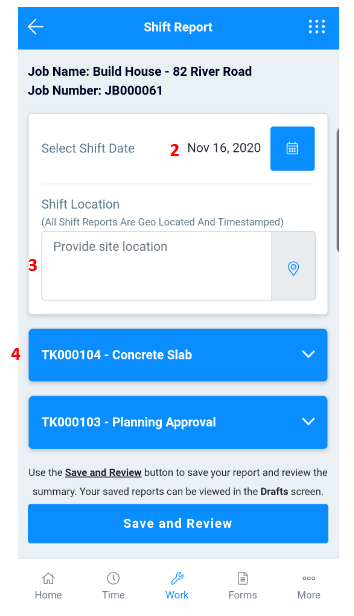 2. Date - Click the calendar icon to select the date this report is for. Default is today.

3. Location - Type or click on GPS icon to automate.

4 Task - Click blue bar to expand/colapse to add details.

5. Enter order and sub order number, if applicable.

6. Task Milestone - tick off milestones as they are completed. Note: Once a task milestone has been completed, it can not be 'uncompleted.'

7. Checklist Items - tick off checklist items completed during this Shift. Note: Checklist items refresh on each new Shift Report.

8. Percentage Completed - use slider to report task progress for this Shift.

9. Work Carried out - Enter details about what occured during this Shift. Click and type or click on the microphone to activate voice to text.

10. Image - Click camera button to take photos or click gallery to upload image or documents from the device. Multiple images can be uploaded.


An excessive number of images or large file sizes will slow your synchronisation speed and may cause time out issues.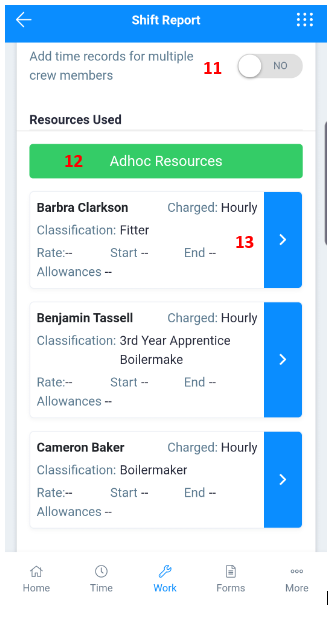 11. Multiple Resources - slide toggle to activate. You can now add multiple resource time entries to this shift report in the one go.

12. Adhoc Resources - Click to add adhoc resources to this Shift Report. This buttone must be activated in
Mobile App Settings
.
13. Resource - Click to add time for individual Resource or to edit times by exception.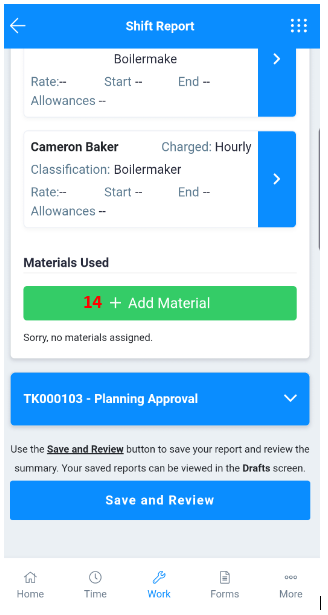 14. Add Materials - Scroll down and the click Add Materials button to add materials used.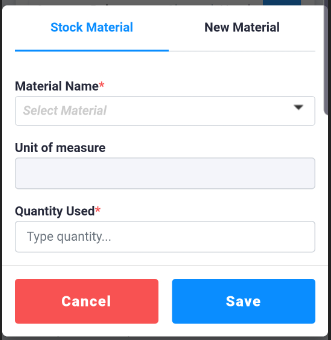 Select if materials are from Stock or are New. Populate and save.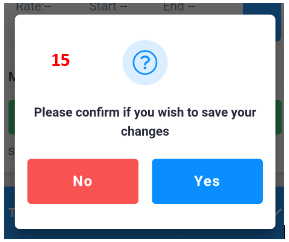 15. Save your data. You will be prompted to confirm your Save. Click yes to proceed.

16. Review your data.

17. Scroll down to your digital signature pad. A great way to get your customers authorisation for times and costs on shift.

18. Control buttons.

Delete - Click to delete all data.

Edit - Click to revert your Shift Report back to edit mode

Save to Device
- Click to save this Shift Report on the device. You will be able to see this report under Work>Drafts
Lock - Click to lock this Shift Report and push it to the webserver.