Download the App & Permissions
Access Permissions

User permissions and app functionality are set via the QicWorks hub. To have access to the app a User must have Mobile App or higher permissions.


To see which functions can be turned on and off within the app see:
App Settings
Device Permission

In accordance with mobile application privacy policies QicWorks will ask a user for permission to use the following functions found on the mobile device. Note: The following screens will vary between devices and have been included purely as information only.

Photos/Media/Files
modify or delete the contents of your USB storage




read the contents of your USB storage



Camera
Storage
modify or delete the contents of your USB storage




read the contents of your USB storage



Location
precise location (GPS and network-based)




approximate location (network-based)



Microphone
receive data from Internet




control vibration




run at startup




full network access




prevent device from sleeping




view network connections



As you use the app features, you will be asked to accept permissions.
Below are some examples of what will be asked.

You must accept the permissions of some features or functions for them to work.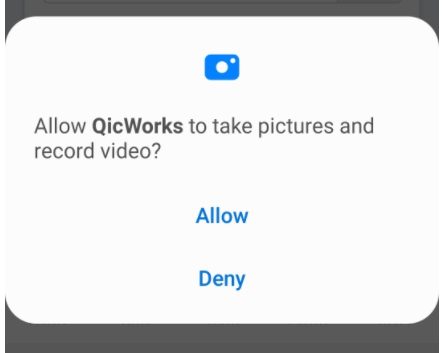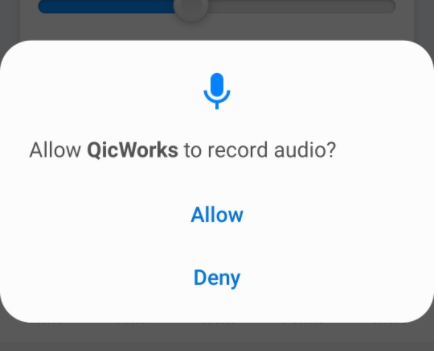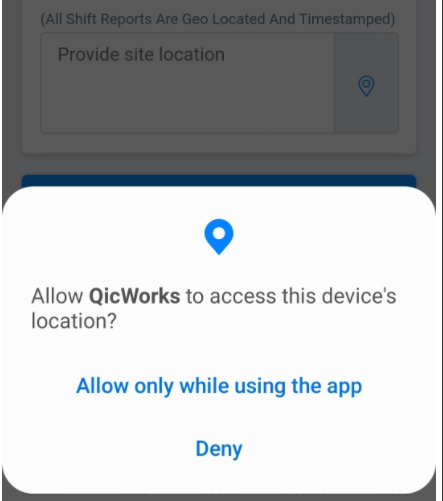 Related Articles

App: Feature Details

The QicWorks companion app is the tool you need to help grow your business. The mobile application can be downloaded in iOs or Android format to help capture more meaningful field data from your mobile teams. The QicWorks companion app is separated ...

APP: Forms

Empower your teams to capture field data using your very own custom digital forms. Once your forms are created on the webserver they are automatically pushed to all Users mobile devices. Your digital forms are accessible from within the Forms menu ...

Permissions Explained

Simple Account Permissions

APP: Work

Designed from the bottom up, with the end user in mind, our Site Reports include the latest tech such as voice to text, GPS location, image annotations, slider bars and digital signatures to capture client authorisation. It also contains time saving ...

App: Timeclock

The QicWorks companion app can be converted into a TimeClock (similar to a bundy clocks.) Simply download the app onto a mobile device and then mount it in your crib room, office or workshop. When you add Staff members to your account, they are ...