Visitor registers or log books are a create way to capture who is on site, how long for and who they were visiting.

There are a number of benefits to having a digital register including:

offering privacy to your visitors. No longer are your visitors contact details laid open for all to see.

data standardisation and accuracy including freeing up staff from duplicate date entry.
automated notifications informing staff of visitors arrival. No more racing around trying to track Staff members down.

being a great way to promote how your company is innovating.

Permission

The QicWorks digital Visitor Register is accessible via the TimeClock pin pad.

Visitors do not need to be listed within or have access to your QicWorks account. Using their mobile number as a unique identifier, your account will remember them on their next visit.


To convert a mobile device to a TimeClock you need to have administrator permissions to allow you to see the Admin pin code required.
Accessing Visitor Register

Click on the Visitor Log In/Out button at the base of your TimeClock pin pad.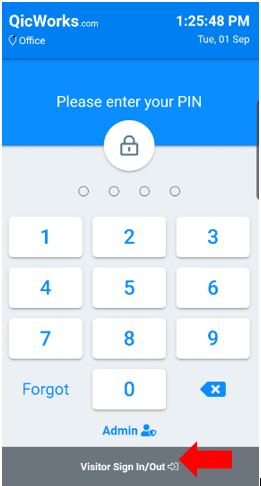 Your Time Clock has now converted to your Visitor Log Book.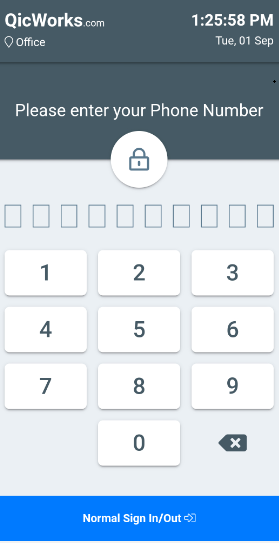 Have your visitor follow the prompts to enter their contact details; mobile number, name, and who they are visiting. The device will take the Visitors photo on sign in. It will also send an SMS message to the personnel they are visiting advising them that they are on site.

Once a visitor has completed their site visit they should clock out. This will then update the Visitor register within your webserver.