We know that sometime stuff happens.... That is why we have made QicWorks able to collect time data after a Job has been completed or closed.

Entering time after a job is completed or closed

QicWorks functionality will allow users to enter timesheets or shift reports against Jobs that have been completed or closed. Inbuilt validation will then highlight these time entries and flag them for Manger and Payroll approval.

This will occur when: -

A timesheet or shift report has been
created in the App
against a job that was marked as Available but was changed to Completed or Closed
BEFORE
the timesheet was locked ie synced with the hub.
In this event, QicWorks will now accept these time entries and highlight them for further action. The costs associated with these time entries will automatically appear in the Job's financial reports as Unapproved time. Once Manager approval has been given and notes entered to support the approval, the costs will revert to approved in Job Costings and push to Payroll for approval.

Warning Notifications will appear on

1 Dashboard




2. Time and Attendance


Simply click on the blue hyperlinked timesheet shift report or timesheet numbe to investigate.

3. The Individual Timesheet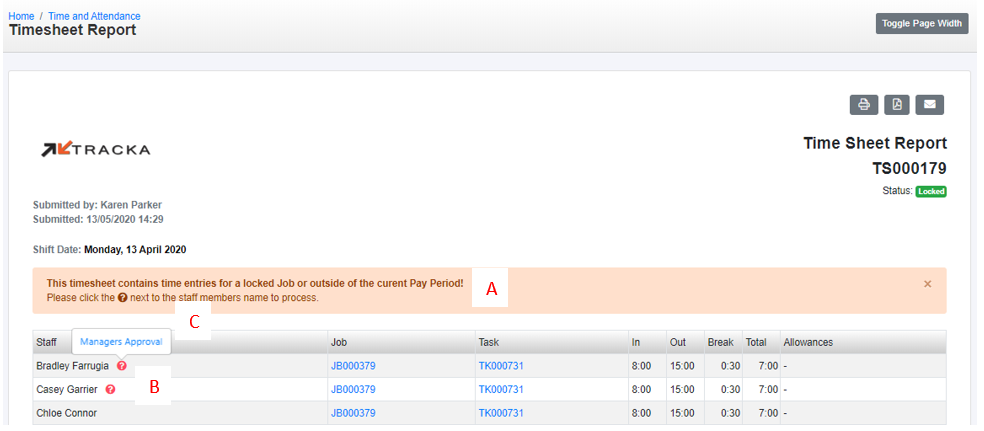 A Warning bar and instruction

B Tooltip: Simply hover over red question mark to reveal the Managers Review hyperlink

C
Hyperlink: Click on Manager Approval to jump to the Manager Approval screen to investigate further
4 Managers Review screen for selected individ
ual
https://qicworks.net/work/stafftimelist?startDate=13/04/2020&staffIdQW=Mp6lo2jR

Warning bar with instructions and time entry details

Process Change button: Click to review details and process this claim.


Note: Clicking on the process change button will remove the previous Payroll and Managers Approval, to allow for re-processing.

5 Payroll Review Screen
A.

Warning bar with link to Details or Report view

Staff with Payroll permission can activate the Process Change button and then proceed to approve the time as both the Manager and Payroll approvers. Managers are able also able to activate the Process Change button, but can only grant Manager Approval, ie Managers cannot give Payroll approval.

Any time entries entered against a completed or closed job before the timesheet was synced will appear in Job Financials as Unapproved.

Once the Process Change button has been clicked it will remove the existing Manager and Payroll approvals for the original time entries. You will be promoted to give a reason as to why this time entry is being processed. This note will remain in place throughout the life of this entry for historical purposes.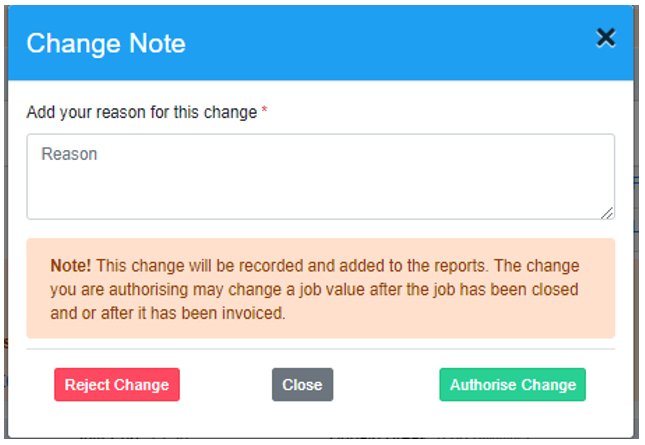 Rejection
of this change will revert existing Manager and Payroll approvals back into place, and the rejection details including the reason will then display on the Users time details.
Clicking the Authorise Change button will progress you to the Managers Approval screen, for that specific Resource. Scroll down to find the effected time entry.


All time entries and their specific job details are now available. It is the Managers responsibility to ensure the accuracy of the time records and the Jobs the costs are to be allocated to.

You will need to then click the Edit button to enable Manager Approval.

Here you can rerun the specific pay rule, confirm time records equal Job's shift duration, enter any additional notes, review allowances and save.


Note: Should the selected tasks be allocated differing pay rules, you will be asked to select which pay rule is to be used.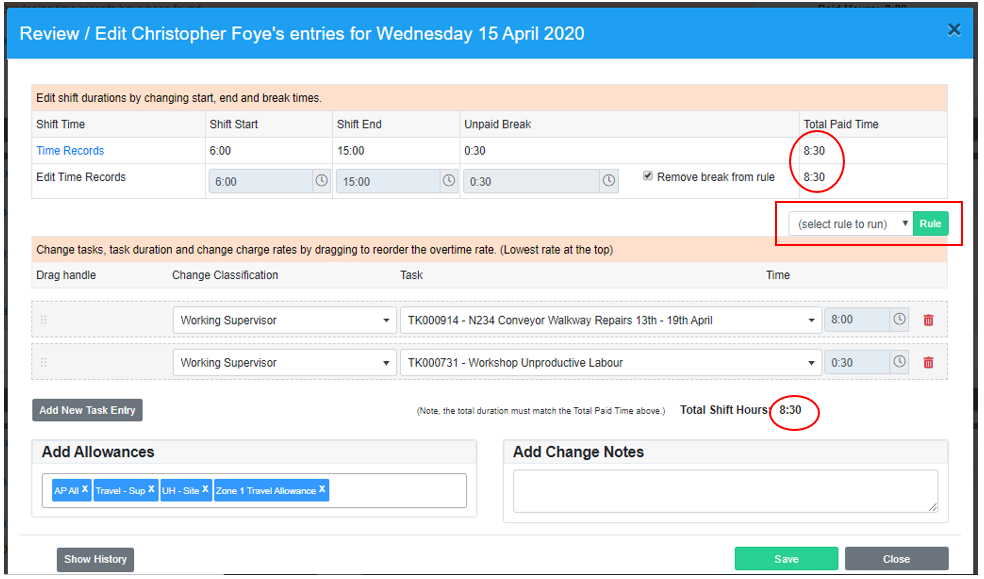 Once Saved the time entry will be workflowed to Payroll for approval.


Click on either Details or Report blue hyperlink within the Warning bar for full details. You will need to take note of the effected time period and Organisation that this time entry is for.

Navigate to that Time and Organisation.

Effected entries are highlighted with Unapproved colourings and tool tip to navigate to the Managers Approval for further details.