QicWorks uses Classifications to group together common Resource types. Classifications are not the individual Resource names, instead it is the group in which to Resource will be costed by. Classifications are used to calculate the net cost and billable rates for each of your resources.
Classification examples include Boilermaker Level 2, Supervisor, or 5T Truck.
Important! QicWorks allows you to add equipment as either a Material or as a Resource. It just comes down to how you wish to charge the equipment out and/or if you wish to schedule time for the item within QicWorks Job Schedule.

QicWorks goes one step further by allowing you to collect and report costs of your resource based on their Resource Type. Choose to report on:
Direct costs

– such as labour, materials, equipment, or tools specifically allocated to the job. These items represent real cash overflows and must be paid as the job progresses.
Indirect costs

– such as office overheads, utilities, general administration staff or project managers. Indirect costs are items that are unable to be charged direct to the client as part of the job.

Sub Contractor

– Use this category to collect costs associated directly with subcontractor hire.




Equipment

– such as equipment items you have purchased or hire for a specific job.

Resources allow you to customise your individual resources ie John Smith, 50T Crane, 4" Angle Grinder

.

Classifications must be created from within the Net Cost Table.

Navigation
Click on Business from the main menu, then click on Settings . From the Financial Settings menu click on Cost Management . Then click on Classifications from the Type menu.

Classifications Management Table

Manage all your Classifications from within the Classification Management table.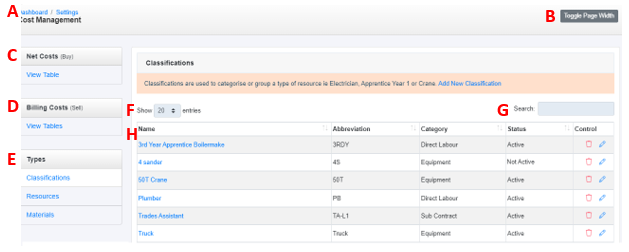 A
Navigation Breadcrumbs: Click on hyperlinks to jump to that screen
B
Page Toggle Width: Click to increase or decrease the page width
C
Net Costs Menu: Click View Table to view your Net Cost Table
D
Billing Costs Menu: Click View Tables to view all your Pricing Tables
E Types Menu: Click to select from Classifications, Resources or Material Management tables

F
Show entries
:
Change the view settings to Show 5, 10, 20, 50, 100 or All entries
G
Search:
Click in the Search field and enter search criteria to find data from within the Classifications Management Table
H
Classifications Table: Overview of Classification details
Contained in this table is:

Classification Table






Field Name




Function




N

ame




Name of Classification




Abbreviation




Short form name of Classification




Category




Labour Type




Status of this Classification Active/Not Active

Controls




Choose from Edit or Delete this Classification



Editing a Classification

1.
Click on the
Classification name
or pencil
edit
icon under Control.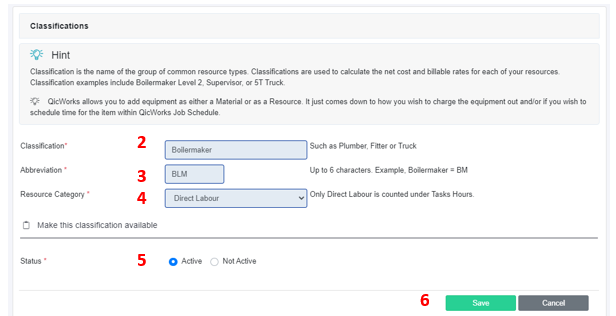 2.
Name of Classification.
Mandatory *
3
. Abbreviation:
Free text field to enter an abbreviation for the classification name
4.
Resource Category: Employment type
5.
Status:
Mandatory *
Toggle between Not Active/Active

Don't forget to click Save to save any changes made


For more information on how to assign a Staff member a classification see:
Staff
For more information about how to create a Classification see:
Net Cost Table