QicWorks integrates with Xero through a secure API which allows us to push and pull data directly between the two accounts. This feature is a great time saver as it allows for data standardisation and removes data duplication or manipulation.

Data that can be pulled d
uring Account Setup includes:
Staff, Contacts, Pay Categories, Tax Rates, Chart of Accounts and Tracking Categories
Data that can be pushed during use includes:
Purchase Orders, Bills and Expenses, Invoices and Credit Notes, Payroll data to Pay templates, and Leave Requests

Data that can be pulled during use includes:

Leave balances and Invoice payment details.
Navigation

To connect with Xero c
lick on

Business
from the main menu, then click on
Settings
. Click on

Xero

under the Connections menu heading. Click on Connect to Xero button.

Step 1: Connecting to Xero



QicWorks is now connecting to Xero. You will then be asked to enter your Xero login credentials.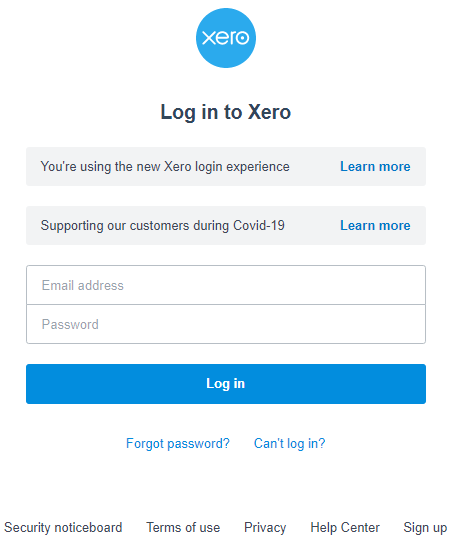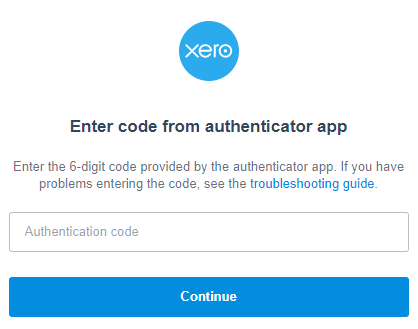 You will then be asked to confirm access.

Step 2: Match your Xero account with your QicWorks Organisation
Once Access is Allowed you will return to QicWorks where you will be asked to match your QicWorks organisation to Xero's account. Select your matching QicWorks organisation from the dropdown and click Save

.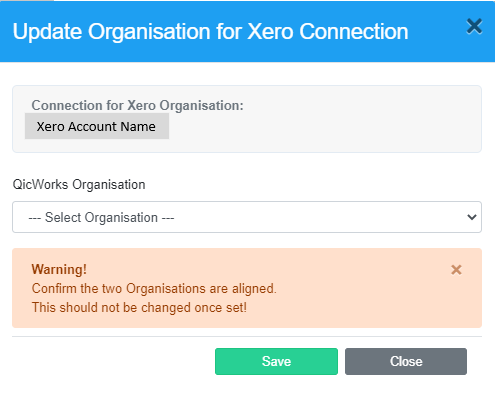 Your Xero Connection details will now load in QicWorks.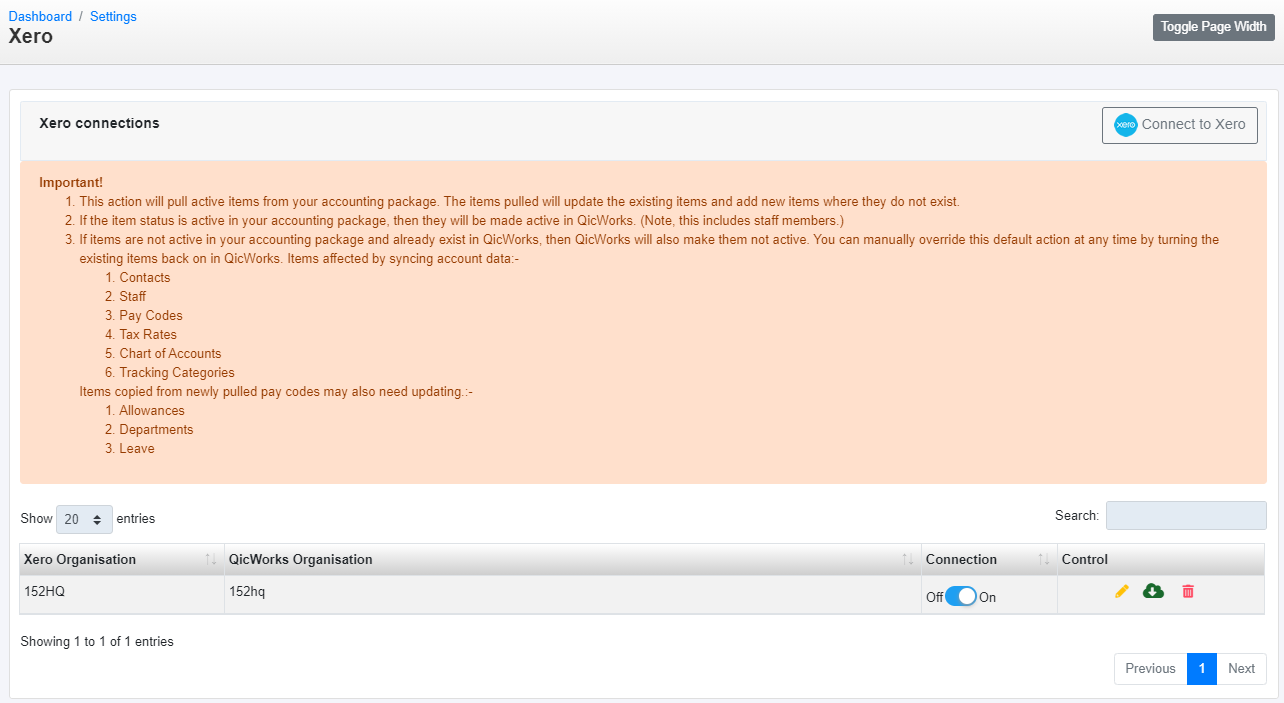 Contained in this table is:

General Information



Field Name

Function

Xero Organisation


Xero account selected


QicWorks Organisation

The matched QicWorks organisation for this connection

Connection


Toggle On/Off to activate this connection




Controls


- Click to edit connection

- Click to synchronise your data

- Click to delete this connection
Step 3: Synchronising your data

Once connected you will need to synchronise your data.

1. Click on the

cloud icon to select which data sets you would like to pull from Xero.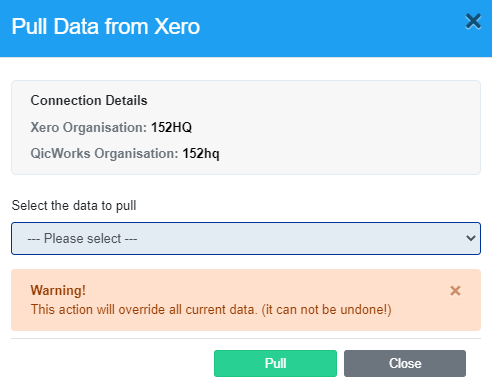 2. Use the dropdown menu to select which data set you would like to sync.

Here you can pull the following:

Staff

Contacts (Suppliers and Customers)

Pay Codes

Tax Codes

Chart of Accounts

Tracking Categories

3. Click on Pull to pull this information.


Dependant upon the volume of data you are synchronising - there may be a slight delay.