QicWorks solves our customers hard problems!

We know that sometimes there are times when our clients need a way to calculate employee rates outside of normal time, time and a half, double time or double time and a half. Perhaps employees are paid a special hourly rate for travel, preforming high risk work or working on public holidays, which can then be billed to their customers. To combate this problem the team at QicWorks has created a Custom Rate features.

Custom Rates are added to the accounts Net Cost and Billable Costs Tables. Users can then book to this 'flat' rates either by Shift Reports and/or timesheet, on the webser or companion app. This data then effortlessly flows through Time and Payroll Approval, ready for invoicing.


QicWorks allows for up to three (3) Custom Rates to be created per account.


When custom rates have been used, QicWorks payrules will not run for that time entry. Managers need to manually update/approve these entries.

You can not delete a Custom Rate.

Any change to the Custom Rate name will effect future time records. Past time records will retain their original value.

Custom Rate Example

The example below is the Net Cost table which has a Custom Rate set for Travel and PHW (Public Holiday Work)

Click on Business from the main menu, then click on Settings . C lick on Cost Management from the Financial Settings menu. Click on View table from the Net Costs menu.

Create or edit a Custom Rate

You need to have acces to your Net Cost Table to be able to create a Custom Rate.


1.
Click on Update Net Costs from the Actions menu.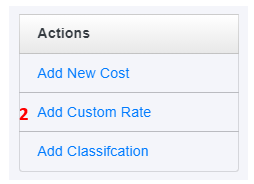 2.
Click on Add Custom Rate from the Actions menu.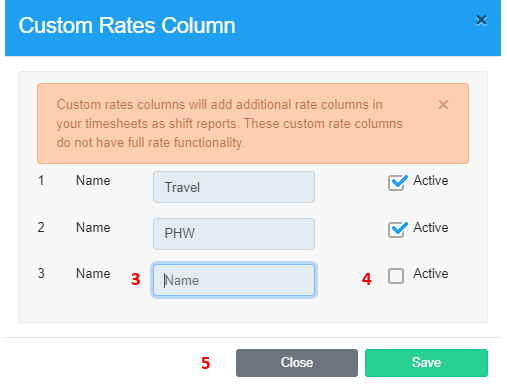 3.
Enter your custom rates name. (Custom rates are restricted to 6 characters.)
4.
Tick if this custom rate is active. Unticked custom rates are inactive.
5.
Save or cancel this action.
On save your Net Cost Table will update. You then need enter the new rates applicable to each affected Classification. You will also need to update any applicable Billable Cost Tables with the new custom rate values, if you can on charge this rate to your customer.


Don't forget to click Save to save your changes.