The Edit Billable Costs has been designed to compare and edit your Actual and Billable values for each item, before they are invoiced.
Users with Manager permission and above are able to edit the items quantity and rates. All changes then update the Actual and Billable Cost Reports, as well as the Load Items panel within Invoicing. These changes do not change the original time record ie Timesheets, Timeclock and Shift Reports are not updated.
Purchase orders or expenses can not be edited from within Edit Billable Costs, instead they need to be edited within the original document.

The values used within the Edit Billable Costs come from the Actual and Billlable Cost Reports.
Navigation

Click on
Job
from the main menu, then click on
Job Management
. To view a particular job simply click on the
Job Number
from within the Job Management Table. Click on
Financial
from the Navigation menu and then click on

Edit Billable Costs

from the Cost Management menu.
Edit Billable Costs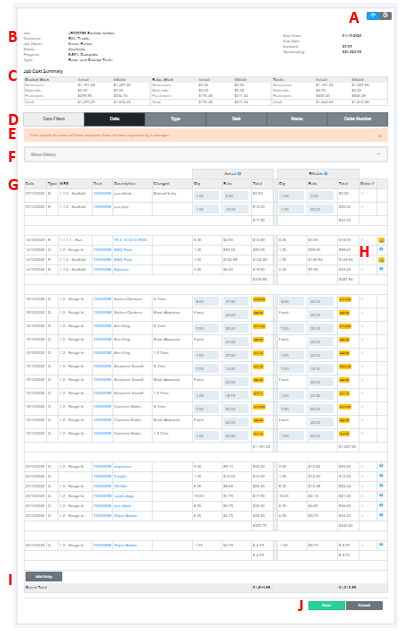 A
Export Buttons: Export data to Excel or Print
B
Job Details: General details pertaining to this particular Job
C
Job Totals by Category: This report will show you your Job totals based on Resource, Material and Purchases by Quote and Rates
D
Filters: Click on tabs to sort table by that field
E
Data Warnings: Panel for
additional notes or warnings
F Show History: Click to expand to see history of changes

G Cost Table: Itemised list of all time and cost entries incurred for this Job or Task

H
Warning Tooltips: Hover over question mark for more details

Blue Tooltip: Information
Blue Tooltip + Hightlight: Document is currently in draft status
Red Tooltip: Data has been changed since Invoicing
I
Add Entry: Manually add a cost to this Job. See Add Entry Button below for more information
See below for full details pertaining to
F
- Billable Cost Table.
Comprising of

Field Name

Function


Date




Date of Transaction




Type




How this entry is costed.

Blank = Costed direct to WBS

WBS




The Work Breakdown Structure this cost has been assigned to. For further details see:

Work Breakdown Structure




Task




Task Name and number




Description




Name of Resource, Item purchased or Material assigned




Frequency




How often this cost is incurred or source of entry



Actual Costs





Quantity




Number of units




Rate




Unit rate that this item is costing you. This value comes from the Pure Cost table based on classification or material, or the order or expense unit value




Billable Costs





Unit rate that this item is costing you. This value comes from the Pricing Table selected within the Task, based on classification or material, or the order or expense unit value

Total




Value of Quantity multiplied by Rate




Order




Order reference number as entered during Task creation




Notes

Information tooltips

Not sure why your Actual Cost Report is showing a zero value at Rate or Total - read our
Trouble Shooting article
to find out why.
Add Entry Button

Click the Add Entry button to manually add costs to your Job.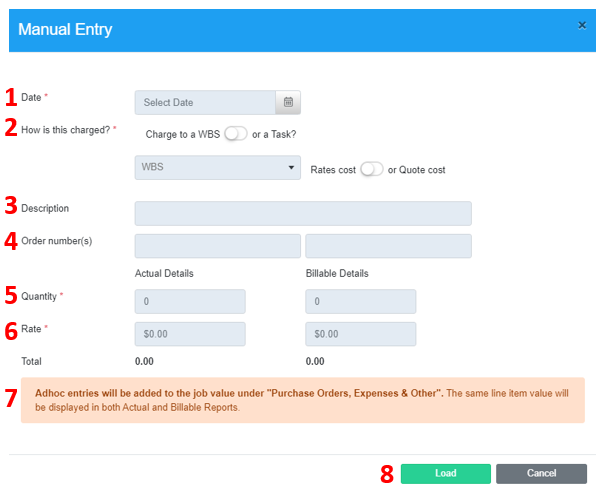 1
Date: Click in field to open calendar. Select the date this material was used
2
How is this Charged?: Use the toggle to allocate this cost to a Task or WBS. If WBS is selected you will need to confirm if this is for Quoted or Rates
3
Description:
Free text field to enter description of this cost
4
Order Number(s): Free text field to enter applicable order numbers
5
Quantity:
Enter Actual and Billlable number of items used
6
Rate: Enter Actual and Billable values
7 Warning Bar: Additional information

Once entered and saved, these details will appear in your Edit Billable Costs, Actual and Billable Cost Reports, as well as Load Item page within Invoicing.