Filter: Job Management Table
Review all your Jobs from within our Job Management Table. The Job Management Table can be filtered to show your Jobs based on their current Job Status,

Navigation

Click on Job from the main menu, then click on Job Management. You will find the Job Table Filters to the left of the Main Job Management Table.

The Job Table Filter allows a user to filter the Main Job Management based on the status of your Jobs.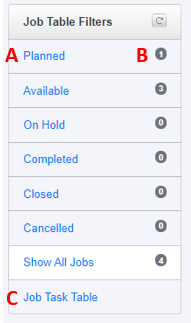 ---
A
Filter Names: Click on the name of the filter you wish to apply to the Management Table

Job Status explained!
Planned: Job is in planning mode and has not been released to the users yet.
Planned jobs are visible in the Job Schedule and can have invoices, purchase orders and expenses created.
Available: Job is available to allocate time and costs to.
It can be seen on the App, Job Schedule, Job Assigner and Planner.
On Hold: Job is on hold and cannot have time or costs allocated to it.
It is NOT visible on the App. On hold jobs are shown on the Job Schedule and uner the "On Hold" tab within the Job Assigner and Planner.
Completed: Users cannot see or book time or costs to job, but financial Users can still invoice and settle costs.
Closed: The job is closed with all financials settled.
Cancelled: The Job is 'deleted' from all financial reports.
B
Number of Jobs: Indicator of how many jobs currently have that status
C
Job Task Table: Click to show all Task regardless of which job they are associated with

For full information about Job Status, see:
Why can't I see my Job?
Related Articles

Job Management

What is a job? Jobs are the 'bucket' that are used to capture all time and costs associated with undertaking a job or project. What is a task? Jobs are broken down further into Tasks. Every Job must have one (1) Task , as it is at Task level that ...

Job List

Audit Table

We know that work environments, interactions and job steps are constantly changing. That is why QicWorks Safety Audits provides users with the ability to create flexible safety questionnaires that can be managed internally, so you can capture and ...

Task Table

The task view table is a great way to add new or access existing tasks for editing. It provides a list view of all tasks associated with a particular job, their status and how they are billed (ie quoted or rates work.) QicWorks has also added ...

Form Management

Use the QicWorks digital form builder to create your own digital forms. Once your forms are created you can manage them within the Form management section of QicWorks. Here you can delete them, Navigation Click on Business from the main menu, ...