Use the QicWorks digital form builder to create your own digital forms. Once your forms are created you can manage them within the Form management section of QicWorks. Here you can delete them,
Navigation



Click on Business from the main menu, then click on Purchase Orders.
Overview
Refresh your filters by clicking the Refresh icon
Data Filters
Table Filter Menu: The table defaults to open all purchase orders in your account regardless of their status. Use the Filters to search this table by status i.e All, Draft, Issued, Billed, Expedite or Closed.
Balance Bar: This big blue bar is a summary of all money associated with the purchase orders in each category.
Show: Change the view settings to Show 5, 10, 20, 50, 100 or All entries.
Search: Click in the Search field and enter search criteria to find a particular Job from within the Job Table.
Sort: Click on the arrows to the right of each column title to sort data alphabetically in ascending or descending order.
Actions Menu
New Purchase Order: Create a new purchase order by clicking.
Qic-Tip and Tricks:
Click on any blue hyperlink within the Purchase Order Management Table to jump to that particular Purchase Order or Supplier details.
Filters
All: Show all purchase orders
Draft: Filter to show purchase orders that have the status Draft
Issued: View all issued purchase orders. Issued purchase orders are orders that have been sent to the Supplier.
Billed: View all purchase orders that have supplier invoices or Bills allocated to them.
Expedite: View open purchase orders that still have goods pending delivery
Closed: Purchase orders will automatically be set to closed when bills have been matched and full delivery has been received. Users can manually close purchase orders as well. Closing a purchase order locks that order from having additional goods receipts or bills entered.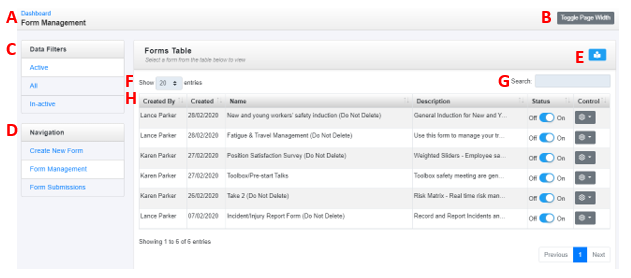 A
Navigation Breadcrumbs: Click on hyperlinks to jump to that screen.
B
Toggle Page Width: Click to increase or decrease the page width.
C
Data Filters: Filter the Purchase Order table by All, Draft, Issued, Receipt, Expedite, Closed or Archived. (Default view is All.)

Expedite will filter the table to show orders that are still awaiting the delivery of goods or services. For a detailed list of specific items that are awaiting delivery, see: Expediting Report under Business>Reports
D
Receipt Filters Menu: Click to filter your data by All, Bill, Delivery Docket or Credit Notes. (Default view is All.)
E
Action Menu
:
Create a New Purchase Order or new Bulk Purchase Order.
F
Totals Bar
:
View the current values based on order status of Draft, Issued, Receipted and Total.
G
New Purchase Order button:
Click to create a new purchase order.
H
Help Icon: Click on the book icon to open page help
.
I
Show Entries
:
Change the view settings to Show 5, 10, 20, 50, 100 or All entries.
J
Export Icons
:
Click respective icon to export table data to pdf, excel, csv files or print.
K
Search:
Click in the Search field and enter search criteria to find selected data from within the Purchase Order Management Table.
L
Purchase Order Management Table
Purchase Order Table

Number

This is the unique purchase order identification number. This number is automatically set by QicWorks in accordance with your Settings. For more information visit Prefix Codes

Supplier

Name of the supplier that the purchase order was issued to.

Date Raised

Date the purchase order was created.

Delivery Date

Date that the delivery of goods is expected.

Budget

Nominal budget allowance for this purchase.

Amount

The value of this particular purchase order including GST

Status

The current status of the invoice.

Attachments

Click on the clipboard icon to open and view the purchase orders attachments.
Actions

New Purchase Order

Click this action button to create a new purchase order
For more detailed information on how to add a new purchase order, go to New Purchase Order