How can I change organisations for a Staff member?
Problem

Solution

Changing a staff members organisation is easy. But there are a couple of things to note:

The change will take effect during the current pay period (not "current/open pay run"), and be active for all records going forward.

All previously set pay codes for this resource will clear under their Staff pay profile. You will need to then go into that Staff members Pay Details and select which paycodes from the new organisation are applicable.

All leave requests past and future, that were allocated to that Resource when assigned to the old organisation, will be deleted within QicWorks.

Any past time records for this Staff member prior to this change, will not be editable once this change has occurred.
This change is recorded under this Staff members history.
To change a Staff members organisation:

1. Simply head over to the effected staff member;
Click on
Business
from the main menu, then click on
Staff
. Click on the
staff member name
then click
Edit Staff Details
from the Actions side menu.
2. Click on the Change Organisation button.


3. From the dropdown menu select the new organisation and then save.

4. You will now need to navigate to this Staff members Payroll Details. Click on Show all pay codes and then tick appropriate Paycodes for this individual and save.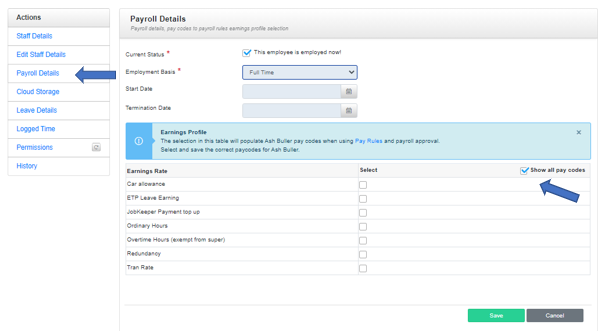 You will now be able to post this team members times to your accounting software for payroll approval.


Don't forget to click the Save button to apply all changes.


For more information about connection errors to third party software see:
Connection Events
Related Articles

Staff

Manage all contact details and delegate access permissions for your Staff from this landing page. Use this site to collect personnel details for your staff regardless of if they are permanent employees or hired through an employment agency. Once ...

Organisations

QicWorks allows account owners to manage multiple organisations all from the one account interface This means you are able to effortlessly allocate staff & job expenses across your entities, knowing their costs will settle to your correct accounting ...

Job Change Order

Record job value changes The Job Change Order can be used to control the value of a job. They record the value change and the reason why. Under job Financial Setup you will find the choice to lock the values once the have been entered Once locked, ...

Action: Setting Staff Permissions

Action: Setting Staff Permissions

Action: Add New Staff