Incident investigations are undertaken once an event has occurred. A good investigation aims to identify the series of events that lead up to the incident occurring, exactly what happened as well as what can be done to prevent the incident from occurring again.
Investigations are best conducted in a team environment and usually comprises

safety representatives

line managers and/or supervisors

persons from the worksite

additional persons with relevant knowledge.

The QicWorks Incident Investigation form has been designed to systematically

identify and label all evidence including tools and equipment involved, taking photographs, witness statements

check to see if there have been previous 'near misses' in similar circumstances

identify events leading up to the incident, possible root causes, key learnings and implement an action plan to prevent future incidents


keep records that the investigation was conducted in a fair and impartial manner.



Your investigations should focus on who, when, why, what and how. It is essential to look at design, environment, work processes and behavioural components such as plant, procedures and people rather than isolate a single cause.


Investigations should focus cause and not blame!

Don't focus your attention on a single cause, as often there are multiple factors that contributed to the incident.

Your recommendations should focus on prevention, with key learnings being able to be applied to other business practices and personnel.

QicWorks HSEC module allows Users to link their Incident Investigation Form with and existing Event Report and/or Injury Report. This link then appears as a hyperlink within view/pdf modes for easy referencing.
Navigation

Click on HSEC from the main menu, then click on Incident Investigation from the HSEC Forms tabs.

Incident Investigation Management Table

Manage all your Investigations from within the Incident Investigation Management table.

A Navigation Breadcrumbs: Click on hyperlinks to jump to that screen

B Page Toggle Width: Click to increase or decrease the page width

C Data Filters: Click to filter Mangement Table by All, Draft, Issued, Closed. Default is All.

D Actions Menu: Click create new

E Page Help: Click to view help for this page.

F
Show entries
:
Change the view settings to Show 5, 10, 20, 50, 100 or All entries
G
Search:
Click in the Search field and enter search criteria to find data from within the Incident Investigations Management Table
H
Incident Investigation Management Table: Overview of Investigation details
Contained in this table is:

| | |
| --- | --- |
| Investigation Table | |
| Field Name | Function |
| Report Date | Date incident was reported |
| Incident Number | Sequential number for this report. |
| Incident Name | Name of incident |
| | Status of this Incident ie Draft, Issued or Closed |
| Attachments | Number of Attachments. Click icon to view attachments |
| Controls | Choose from View, Edit or Delete this Incident Investigation |
Creating a new Incident Investigation form.

1. Click on the Create New from the Actions menu.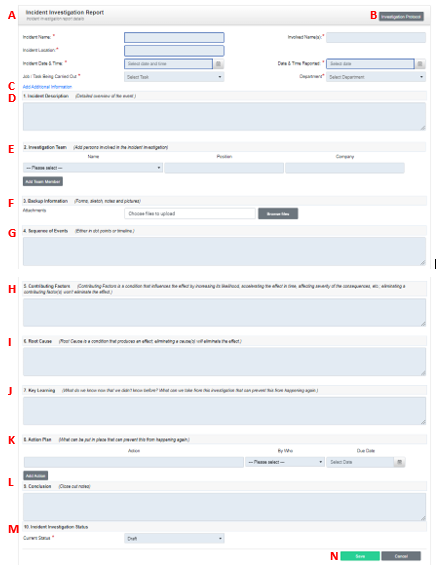 A Form Header: Enter Incident name, location, incident and reported date/time, personnel involved, Job/Task and Department.


Only Jobs/Tasks marked as Available will show in the dropdown.
B Investigation Protocol: Click to review help file.

C Add Additional Information: Click to expand to add external reference and reported to fields

D Incident Description: Free text field to add detailed overview of event.

E Investigation Team: Add persons involved in incident. Select Staff name from dropdowns to populate.

F
Backup Information
: Upload any sketches, images, notes, etc
G Sequence of Events: Free text field to enter dot point time line details.

H
Contributing Factors: Free text field to enter contributing factor.

Contributing factor is that influenced the effect by increasing its likelihood, accelerating the effect in time, affecting severity of the consequences etc, eliminating a contributing factor(s) won't eliminate the effect.

I
Root Cause: Free text field to enter identified Root Cause.

Root Cause is a condition that produces an effect, eliminating a cause(s) will eliminate the effect.

J Key Learning: Free text field to enter Key Learnings.


Key learnings are what do we know now that we didn't know before? What can we take from this investigation that can prevent this from happening again.

K
Action Plan: Free text field to enter your Action Plan and assign 'owners' and due dates for the identified tasks. Click on the Add Action button to add more actions and assignees.

L
Conclusion: Free text field to enter your conclusion or close out notes.
M Incident Investigation Status: Use the dropdown to change the status of this form.

N Save & Cancel buttons


Don't forget to click Save to save your changes.

Editing an Incident Investigation

1.
Click on the
Investigation Number
or pencil
edit
icon under Control.
2.

Review data and edit as applicable
3
. Click Save to save your changes.

Don't forget to click
Save
to save any changes made

For more information about QicWorks HSEC Module see: