Jobs are the 'bucket' that are used to capture all time and costs associated with undertaking a job or project.

What is a task?
Jobs are broken down further into Tasks.
Every Job must have one (1) Task
, as it is at Task level that Job costs and times are captured.
A Task can not be created on it's own. A task must be linked to a Job. For further details visit

Action: Create a Task
Task costs are then 'rolled up' to total against the Job. For example:
Task 1 - $5,000.00 in costs
Task 2 - $ 250.00 in costs
Task 3 - $2,700.00 in costs

will give a Job Cost Total of $7, 750.00
To make things even easier, QicWorks will default the first Task on the Job with the Job's Title. Simply type over the top of the task name and click save to override this feature.
A Task could be specific to a particular:
Job Step Requirement i.e

lay foundation slab for house

Trade Type i.e

task specific to capture costs incurred by boilermakers

, or

Pay Rule i.e

afternoon shift with penalties

Use Job and Task Templates to standardise your job structures. (Not to mention save time)

We recommend that to get the most out of the QicWorks platform, jobs should be constructed in accordance with our minimum requirements. Check out our
Job & Task Cheat Sheet
to see which fields are mandatory when setting up Jobs and Tasks.
Navigation

Click on Job from the main menu, then click on Job Management .

Job Management Table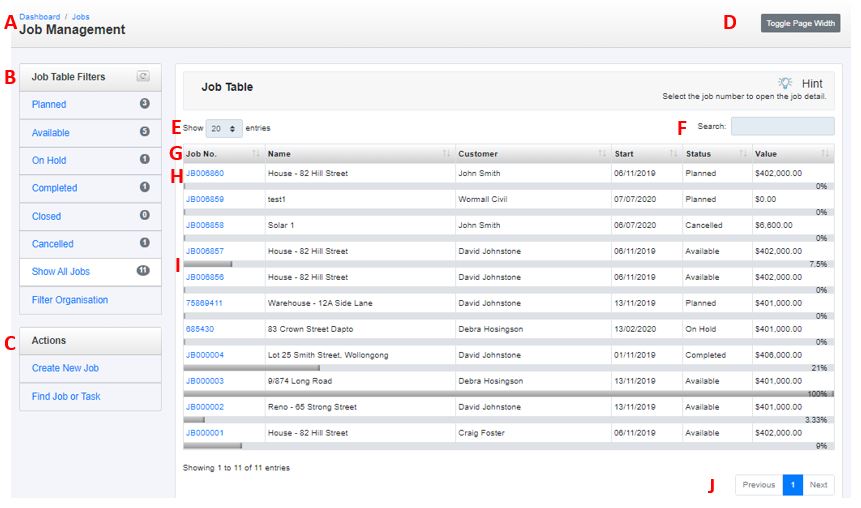 Job Management Table
A
Navigation Breadcrumbs: Click on hyperlinks to jump to that screen,
B
Job Table Filters: Select how you wish to filter the data within the main Job Management Table
C
Action Menu: Select what action you wish to preform
D
Page Toggle Width: Click to increase or decrease the page width
E
Show entries
:
Change the view settings to Show 5, 10, 20, 50, 100 or All entries.
F
Search:
Click in the Search field and enter search criteria to find a particular Job from within the Job Table.
G Main Job Management Table: Shows all jobs as set by the Job Table Filter. (Default view is to Show All Jobs.)

Contained in this table is:

| | |
| --- | --- |
| Supplier Details | |
| Field Name | Function |
| Job No | Unique job identifier. To change this prefix see Prefix Settings |
| Customer | Name of the customer this job is being undertaken for |
| Status | The job status |
| Value | The current cost value of works to date |

Job Status explained!

Planned: Job is in planning mode and has not been released to the users yet.

Planned jobs are visible in the Job Schedule and can have invoices, purchase orders and expenses created.

Available: Job is available to allocate time and costs to.

It can be seen on the App, Job Schedule, Job Assigner and Planner.

On Hold: Job is on hold and cannot have time or costs allocated to it.

It is NOT visible on the App. On hold jobs are shown on the Job Schedule and uner the "On Hold" tab within the Job Assigner and Planner.

Completed: Users cannot see or book time or costs to job, but financial Users can still invoice and settle costs.

Closed : The job is closed with all financials settled.

Cancelled: The Job is 'deleted' from all financial reports.

H
Job No hyperlink: Click on the individual job number hyperlink to jump to that job's specifics.
I
Job Progress Bar: Shows the current percentage complete status for the job detailed above.
For full details on how percentage complete is calculated see:
Job Progress
J Next page selection