Manage Resources and Jobs via this interactive drag and drop interface. Changes made here will automatically update the Job Details in the Job Management area.

Qic-Tips & Tricks:

Any Job marked with the Status "Planned" will not appear on the Job Planner. You need to update the Job's status under Job/Job Management/ edit Job to "Available" or "On Hold" for it to appear.

Navigation

Click on Jobs from the main menu, then click on Assigner .

Job & Resource Planning

Jobs and Resources allocated under this panel are active, with this data pushing to the companion App for time collection either via the Kiosk Time Clock or Site Report.

To make a Job or Resource inactive, click on the Job or Resource name and drag it onto either Jobs or Resource Tab under Job & Resource Pool (left panel.)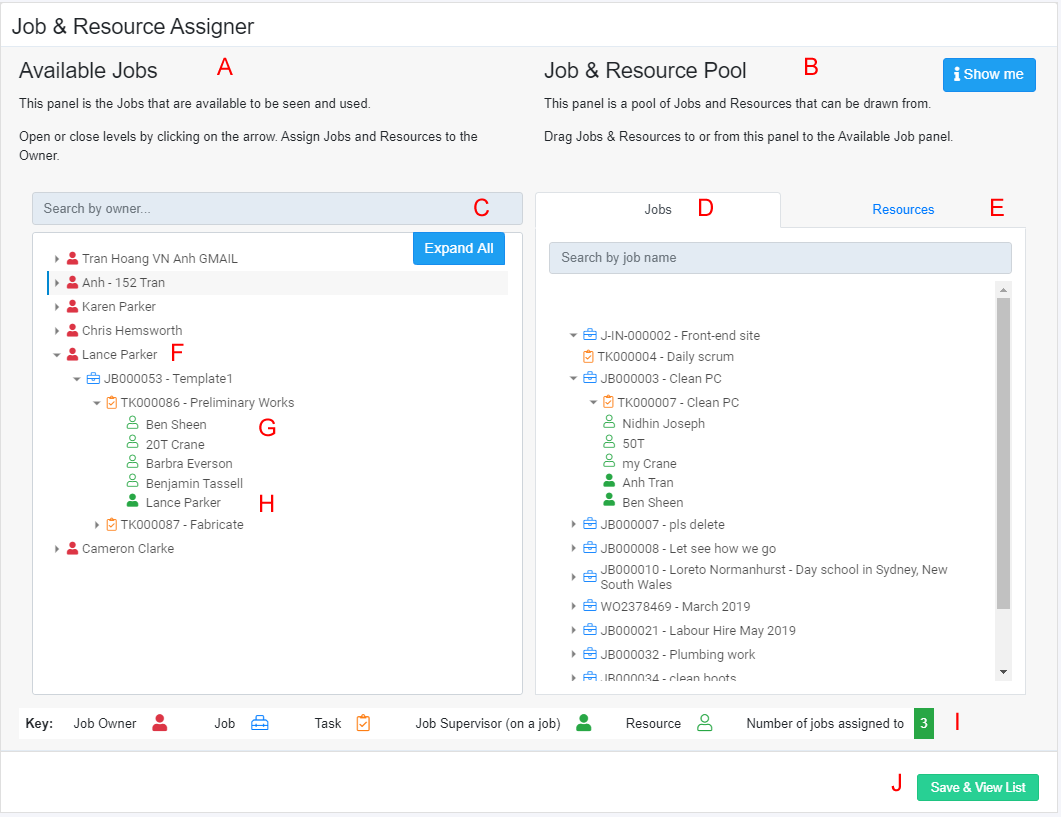 Jobs and resources allocated under this panel are inactive. These jobs will not be accessible via the companion App.

Click the Jobs Tab to view inactive Jobs. The make these Jobs active click on the Job and drag it onto the Job & Resource Planning (right panel)

Click on Resources Tab to view all Resources. The number next to the Resources name identifies how many Jobs that Resource is currently allocated to.

Resource Pool, available jobs

Job & Resource Planning


A




Available Jobs: This panel is the Jobs that are available to be seen and used.


Open or close levels by clicking on the arrow. Assign Jobs and Resources to the Owner.


B




Job & Resource Pool: This panel is a pool of Jobs and Resources that can be drawn from.


Drag Jobs & Resources to or from this panel to the Available Job panel.


C




Owner Search


D




Job Pool, available jobs


E




F




The Owner of the Job, This User has permission to allocate Resources to the Job, make the Job active or inactive and edit Resource times collected against this Job


G




Resources allocated to the task


H




Supervisor allocated to the task, t he User who has permission to create Site Reports via the companion App for this Job


Legend


J




Save & View List

View our video for a full demonstration