QicWorks uses Materials to capture the costs associated with providing goods and services to your customers. Examples of materials include:

Physical Goods
Materials are tangible goods that are purchased, resold, allocated to or consumed on a Job.
The easiest way to determine if something is a material is to think of materials as a quantity of item multiplied by costs.
Example : 1 Bag of bolts bought @ $3.50/bag

Once off Charges for Service

These are services that you provide for a once off, flat or all inclusive fee.

Examples include:

1 x Project manager and 2 x technicians for an inclusive fee of $350/hr.
Installation of light globe that includes purchase of globe, wire and technician for an hour. (These are referred to as kit items within our Inventory module.)

Preparation of a report, fee for attending meeting or call out fee
Equipment Hire

Example: Hire of vehicle on day rate of $110/day
This material data is used to create your Net (buy) and Billable (sell) pricing tables, as well as populate your Inventory and Asset management tables (if modules are activated.) Materials can be entered either individually or through the use of our bulk upload sheet.

You can use the bulk material import spreadsheet a number of times to upload your items. QicWorks uses the materials description field as the unique identifier. If this field matches, any subsequent uploads are 'pasted over the top' of your existing records. For more information see our help file: Tips for Uploading Materials

Materials can be added to a job via the mobile app or webserver/desktop applications, either direct or as part of your timesheets or shift report entries, in accordance with your account settings.

Materials can be either assigned or booked to your jobs. For more information see: what is the difference between assigned and booked materials.

Materials can not have time allocated to them or be scheduled for. If you need to track deliver of a particular material, it is recommend you create a Milestone for this to then appear in your Gantt Chart Schedule.

For details on what Material abbreviations are used see: Keyworks, Acronyms & Abbreviations
Navigation
Click on Business from the main menu, then click on Settings . From the Financial Settings menu click on Materials.
Materials Management Table

Manage all your Materials from within the Materials Management table.

A Navigation Breadcrumbs: Click on hyperlinks to jump to that screen

B Page Toggle Width: Click to increase or decrease the page width

C Net Costs Menu: Click View Table to view your Net Cost Table

D Billing Costs Menu: Click View Tables to view all your Pricing Tables

E Types Menu: Click to select from Classifications, Resources or Material Management tables

F Show entries : Change the view settings to Show 5, 10, 20, 50, 100 or All entries

G Search: Click in the Search field and enter search criteria to find data from within the Classifications Management Table

H Materials Table: Overview of Material details

Contained in this table is:

Material Table






Field Name




Function




Description




Description of Material




Frequency




Rate this

material is billed at




Supplier




Supplier of Material




Code


Internal part number. Use to help prepopulate description in purchase orders and expenses.


Status of this Classification Active/Not Active

Controls




Choose from Edit or Delete this Classification



Editing a Material

1
. Click on the
Material name
or pencil
edit
icon under Control.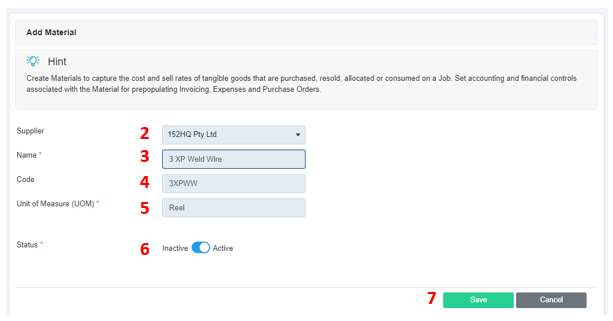 2.
Supplier: Use the dropdown to select Supplier of this material
3 .
Name: Mandatory * Name of Material.
4.
Code: Internal part number used to help prepopulate material name in purchase orders and expenses
5.
Unit of Measure (UOM): Mandatory * how this material is bought ie metre, bag, lot
6
. Status: Toggle between Active/Inactive

Don't forget to click Save to save any changes made

Not sure what assigned or booked materials are see: What is the difference between assigned and booked materials? see:

For more information on how to assign a Staff member a classification see: Staff

Want to change a Resource's classification? See: Can I change the classification of a Resource to suit a job?

For more information about how to create a Classification see: Net Cost Table