Take the pain out of payroll by utilising your pay rules to cleanse your timekeeping data, before pushing to your payroll software.

Create your own customised pay rules which will automate and calculate any complex overtime rates, rules and conditions. Simply assign the corresponding Pay rule to your Tasks and QicWorks in built smarts will calculate a 'best guess' of which pay rates are applied to Resources and their subsequent cost to your job - making Time approval that much easier.

Pay Rules are a great way to calculate different rates, awards or penalties applicable based on different shift or works conditions of employment.
On Monday a dayshift worker might be entitiled to receive -
Pay Rule Process Overview

Pay rules are created and then assigned to a Task. Once time entries are received for that Task, QicWorks will apply that Pay Rule to autocalculate job costings and prepare the time entries for Time Approval and subsequent Payroll Approval.


Navigation



Click on Business from the main menu, then click on Settings . C lick on Pay Rules from the Financial Settings menu.

Pay Rule Management Table

Use the above navigation to access your Pay Rules.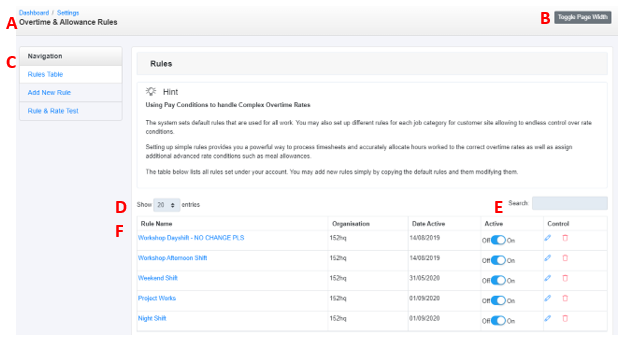 A
Navigation Breadcrumbs: Click on hyperlinks to jump to that screen,
B
Page Toggle Width: Click to increase or decrease the page width
C
Navigation Menu: Click to Add New Rule, run our Rule & Rate Test or Return to your Pay Rule Management Table.
D
Show entries
:
Change the view settings to Show 5, 10, 20, 50, 100 or All entries.
E
Search:
Click in the Search field and enter search criteria to find a particular Task from within the Task Table.
F Pay Rule Table: List view of your Pay Rules

Contained in this table is:

Pay Rule Table






Field Name




Function




Rule

N

ame




Name of the Pay Rule. Click on the hyperlinked name to open this Pay Rule in edit mode.




Organisation




Orginisation this rule is applicable for




Date Pay Rule is effective from. This rule was/will active at 12.01am on this date

.

Status




Toggle between Active/inactive




Control icon for additional functions ie change Task status or delete task