Net Cost is the amount that it costs you to engage a particular classification or material. These costs are used to calculate your Actual Costs Report for your Jobs.

The Net Cost Table is then used to create your Billable Pricing Tables. They will also appear in any additional Billable Pricing Tables you may have customised for to suit a customer, site or project, but will be marked as inactive. You will need to edit them within the specific Billable Pricing Table, as applicable.

If the cost is for a labour classification, then this amount should include applicable remuneration plus superannuation, insurance and percentage for administration costs.


DO NOT INCLUDE OVERHEAD OR MARGIN WITHIN THESE RATES.


Only classifications or materials that have a status of "Active" in the Net Cost Table will appear throughout QicWorks.


Each account can only have 1 Net Cost table.


Qic-Tip

Save time and use the QicWorks
Setup Wizard
to import your Net Cost Table
Click on Business from the main menu, then click on Settings . C lick on Cost Management from the Financial Settings menu. Click on View table from the Net Costs menu.

Net Cost Table

This table will auto-populate with any Classifications or Materials that you have already created.

Classifications appear at the top of the table, with Materials following,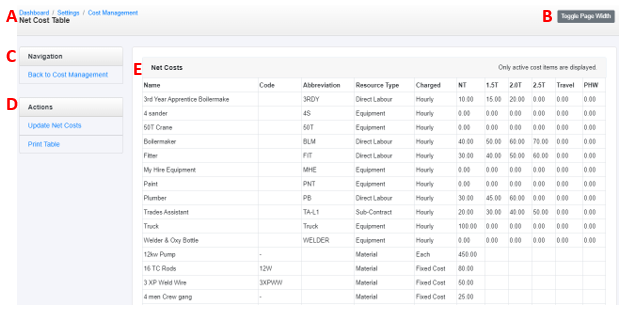 A
Navigation Breadcrumbs: Click on hyperlinks to jump to that screen,
B
Page Toggle Width: Click to increase or decrease the page width
C
Navigation Menu: Click to return to Cost Management
D
Actions Menu: Click update or print Net Cost Table
E Net Cost Table: Overview of this pricing list

Contained in this table is:

Classification Table






Field Name




Function




N

ame




Name of Classification or Material




Code




Material code




Abbreviation


Short form name of Classification


Resource Type




Resource Catergory




Charged


Hour this Classification or Material is charged


The allocated rate for normal time (NT), time & half (1.5T), double time (2.0T) and double time & half (2.5T) or Custom Rate

If the classification is charged as Daily, Weekly, Monthly, Yearly or Once, then the rate is entered in the normal time column only.

+