Understand these few things and you will be creating schedules in minutes

Navigating to your Schedule can be under taken one of two ways.

Click on
Job
from the main menu, then click on
Job Schedule.
Then if required, simply filter by Job Status, Job Number, Supervisor, Job Owner, My Jobs or Assigned resources.

Click on
Job
from the main menu, then click on
Job Management.
Find
your
J
o
b
, and open. Click on
Schedu
l
e
from the Navigation menu and the QicWorks Job Schedule will open showing the details for that Job.
Schedule Overview
To expand your schedule either click on the up and down arrows (
A
) or double click on your Job Name (
B
).

Once expanded, your job schedule format will be similar to the following:


A
Job bar - Including Job name and duration
B
Milestone - Newly created Job Milestone
C
Task bar - including Task name and duration
D
Predessor arrow to link tasks
Editing Details
A
,
B
&
C
- Double click to open and edit Job, Task or Milestone details. To set which fields are visible within the Task popup see
Interface Configuration
You can expand or decrease task durations by click and dragging to suit either the start or end of Task.


Job duration is automatically linked to the end time/date of the last Task. Updating the last Tasks end time will automatically update the Job's end time.


D
- Click at the end of your task and drag and drop at the start of the follow on task to link the two tasks together.
E
- Click on the triangle and drag across the Task to show Task percentage complete
Create a Task within Job Schedule
The QicWorks Schedule is directly linked to your Job Management and Job Planners. This means that not only any changes made within your Schedule is automatically updated throughout QicWorks, but you can also create new Tasks from within your Schedule. To do so click on the 'plus' icon at (
A
)
Once clicked a Task Details poup will appear for you to populate. Enter details and save.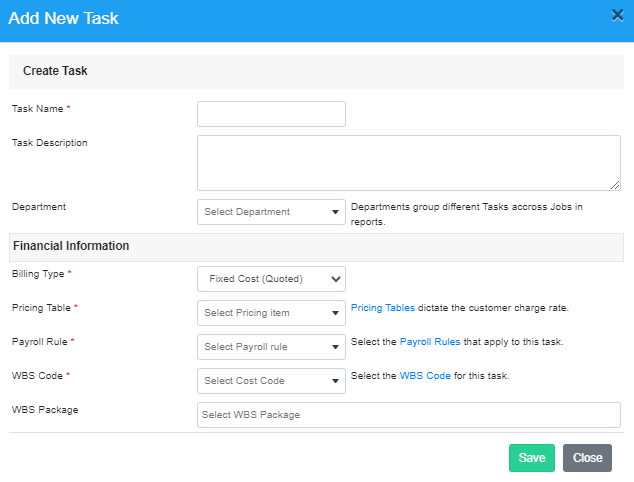 Reordering Tasks
Tasks can be reordered simply by clicking on the task name (within Job/Task Name column) and dragging and dropping it to its required location. You can not reorder by clicking on the blue Task bar.


Auto Scheduling
QicWorks scheduling has inbuilt smarts that allows you to auto schedule your job based on
predecessors
set, calendars and constraints. Simply click on the Auto Scheduling icon (
A
) and the QicWorks will recalcuate your schedule.


QicTip
: Any changes made in your Schedule are automatically update with your Job and Job Planner interfaces.