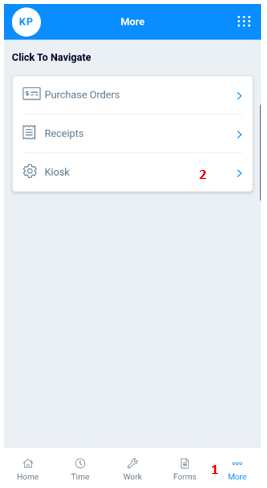 1. Navigate to the Time menu.

2. Click on Kiosk.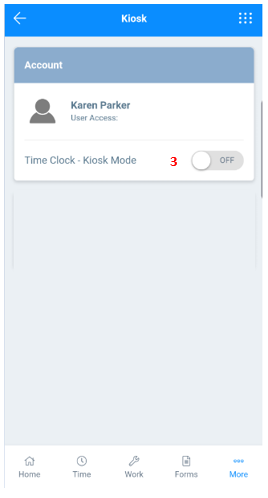 3. Click on the Time Clock - Kiosk Mode toggle to activate.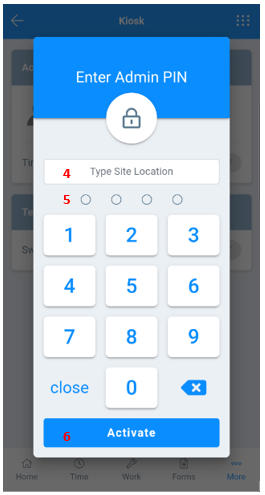 4. Enter a site location ie Office, Workshop 2, Crib 5. This location is used as part of the SMS notification to notify Staff the location of their visitor.

5. Enter the 4 digit administrative pin number to activate.

6. Click Activate to convert.

Note: The Close button to cancel from this screen and back arrow for backspacing the last numeric entry.

Your TimeClock is now activated.

Entering Time via the TimeClock

Once set to TimeClock mode, your Staff will now be able to clock in and out.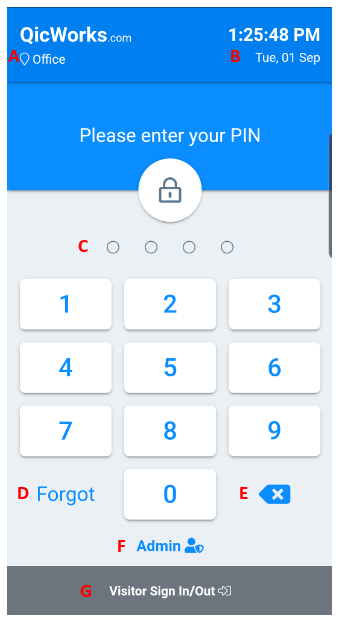 B
Time and Date Details: Time and date as at now.
C
Pin Number Display
: Use the pin pad to enter your unique 4 digit pin to clock in/out.
D
Forgot button: Forgotten your pin - no problem. Simply press Forgot and your mobile phone number and your pin will be resent to you via SMS.
E
Backspace
: Click to remove the last numeric entry.
F
Admin: Click to convert this mobile device out of TimeClock - Kiosk mode.
G
Visitor Sign IN/Out button
: Use to have your visitors register their time on site.