Job Bills - Purchase Orders
QicWorks includes the ability to view all purchase orders that have been costed to a particular job, from within that Job.

Navigation

Click on Job from the main menu, then click on Job Management . To view a particuar job simply click on the Job's Number from within the Job Management Table. Under Bills Menu click on Purchase Orders.

Purchase Order Table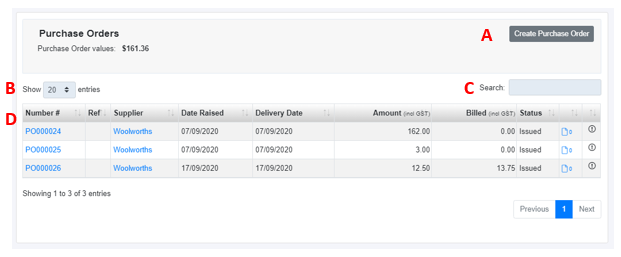 A
Create Purchase Order: Click to create a new purchase order for this Job.
B
Show entries
:
Change the view settings to Show 5, 10, 20, 50, 100 or All entries.
C
Search:
Click in the Search field and enter search criteria to find a particular Purchase Order from within the Purchase Order Table.
D
Purchase Order table: List view of all time entries relating to this Job.
See below for full details pertaining to
D
- Purchase Order Details
Contained in this table is:

| | |
| --- | --- |
| General Information | |
| Field Name | Function |
| Number # | |
| Ref | Reference number as entered on Purchase Order |
| Supplier | Supplier Name |
| Date Raised | Date Purchase Order was raised |
| Delivery Date | Date goods or services are due for delivery |
| | Total value of Purchase Order (including GST) |
| | Total value of all Supplier invoices matched to Purchase Order (including GST) |
| | Current status of purchase order |
| | Click to view order attachments. Number denotes how many attachments are associated with this order. |
| | Hover to see if this order has been successfully pushed to your accounting software. |

Order Status explained!

Draft: The Purchase Order has been created but is in draft format. It has not been released yet to Supplier.
Issued: The Purchase Order has now been sent (manually or automatically) to the Supplier.
Billed: Supplier invoices (Bills) have been allocated and matched to this particular Purchase Order.
Closed: The Purchase Order is closed. Delivery dockets and Supplier Invoices (Bills) can no longer be matched to this order.

QicTip: Click on the blue hyperlinked Number # to open that purchase order.

To view all purchase orders regardless of which Job they were allocated to see:
Purchase Order
Related Articles

APP: Purchase Orders

A purchase order is a legal document that is issued by the buyer to the seller indicating what goods or services they wish to buy. It should include as a minimum the quantity and price of the goods or services. The QicWorks companion app operates in ...

Bills

Bills are your supplier invoices (Accounts Payable) received for goods and services that you purchased. Bills are matched to Purchase Orders and can be pushed to your accounting software, with attachments, for future payment. QicWorks will push your ...

Bulk Purchase Orders

QicWorks bulk purchase order facility allows users to create a purchase order on a single supplier, and then allocate each line item's costs to a different job number. Bulk Purchase Orders can only be created via the webserver. Purchase Order Status ...

Credit Notes for Purchase Orders

Credit Notes are a commercial document issued from a supplier to a customer when goods have been returned, did not receive or offer a reduction in price is offered under the terms of a earlier invoice. Credit Notes for purchases are received from ...

Purchase Order

Purchase Orders are a legal document issued from the buyer to the supplier, designed to capture the exact details of the goods or service that you wish to purchase. QicWorks Purchase Orders are a great way to help you to keep on top of your ...