The Work Breakdown Structure (WBS) is used throughout QicWorks to provide a whole of job perspective on the activities and tasks required to be undertaken to deliver the jobs deliverables and the settlement of Jobs costs based on specific activities.

Basically, WBS's are used to divide your Job or Project into smaller components or nodes to help you to plan, track and evaluate your progress. It is a visual description of your job and can be as complicated or as simple as you like. (Many account owners simply mirroring their existing estimating/quoting structures.)


Every Job must have a WBS Cost Structure assigned to it.

WBS creation is like telling a story. Start by thinking about planning, prework and long lead items, then move onto how you want to report your costs during job execution. It should then conclude to capture job close out costs, punchlists or non-billable items.


The WBS management setup screen allows you to edit a default WBS template which can then be used when creating any new job. You can also add new WBS cost structures.

Your WBS cost structure is made up of nodes - parent and child nodes. Costs will settle against child nodes or the parent node, if no subsequent child nodes are made. All costs allocated to child nodes then roll up to its respective parent, which in turn rolls up to the Job total.


Qic-Tip

QicWorks allows you to create up to 6 child nodes under your parent nodes

Example of a WBS Cost Structure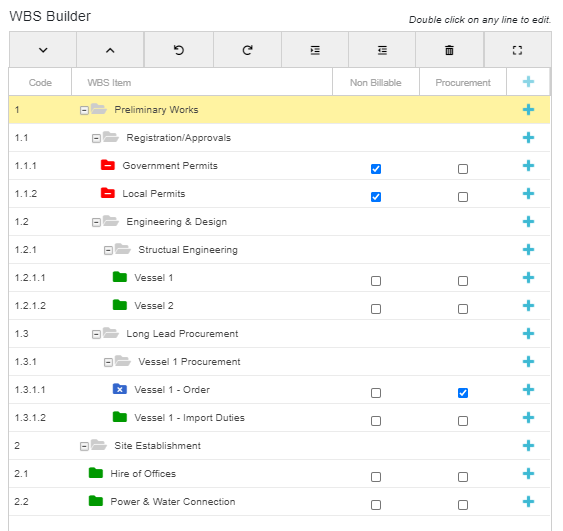 You can not change the WBS cost structure at Job level. It must be changed within the Management interface.

You can not change to a different WBS cost structure at Job level once the Job has time and/or costs allocated to it.

The account must have a least one 'default' WBS.

Navigation
Click on
Business
from the main menu, then click on
Settings
. From the Financial Settings menu click on
WBS Management
.
WBS Management Table

A
Navigation Breadcrumbs: Click on hyperlinks to jump to that screen.
B
Page Toggle Width: Click to increase or decrease the page width.
C
Actions Menu: Click Add New to create a new WBS Cost Structure.
D
Show entries
:
Change the view settings to Show 5, 10, 20, 50, 100 or All entries.
E
Search:
Click in the Search field and enter search criteria to find a particular Job from within the Job Table.
F WBS Table

See below for full details pertaining to
F
- WBS Table.
Comprising of

| | |
| --- | --- |
| Field Name | Function |
| Created | Date of WBS Cost Structure creation |
| Name | |
| Status | Status of this WBS Cost Structure. Toggle between Off/On |
| Controls | Click to edit selected WBS Cost Structure |